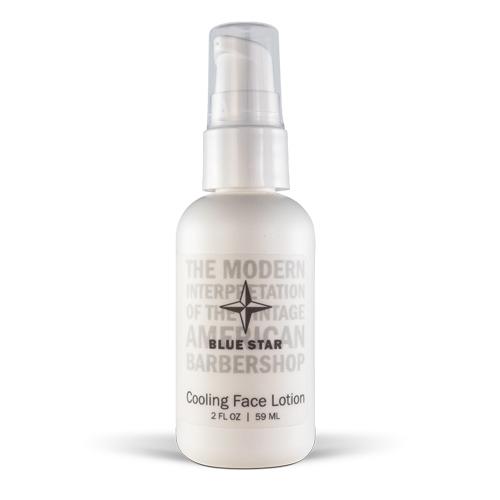 Blue Star Cooling Face Lotion
3.0 oz.
Available In Blue Star Shops Only
2 oz face lotion with a strong cooling effect. You can use as a face lotion, aftershave lotion, or body lotion. Enjoy being cool and feeling cool.
All of our products are developed in our barbershops and made right here in the United States so our guys look and feel their best.
Aloe Leaf Juice helps reduce the frequency and appearance of acne. Aloe vera is a rich source of antioxidants and vitamins that may help protect your skin.
Witch Hazel protects your skin from damage.
Vitamin E to reduce UV damage in skin.
Strong cooling sensation that tightens and tones skin.
light weight lotion that quickly absorbs, with no grease residue.
DIRECTIONS: Apply 2-3 pumps of cooling lotion to your hand and spread across your face avoiding eyes . This fast-acting lotion absorbs within 15 seconds and encourages resilient, healthy skin. Use daily and enjoy the cool toned skin, this is no ordinary face lotion.
Ingredients: WATER, ALOE LEAF JUICE, WITCH HAZEL EXTRACT, COCONUT OIL, EMULSIFYING WAX, JOJOBA OIL, SHEA BUTTER, STEARIC ACID, VITAMIN E OIL, ESSENTIAL OILS, MENTHOL, PHENOXYETHANOL, CAPRYLYL GLYCOL, SORBIC ACID